With over 25 years of DIY renovating, flipping and new build experience, including residential and commercial projects locally and overseas, our team of experts are here to help you make informed choices for a stress free project. We provide unparalleled customer service offering everything from drawing up plans, renovation advise in a Home Improvement Plan, on site visits and liaising with builders, full decoration services with exclusive discounts for our clients and our wonderful mentoring program for those that need some coaching. We can give you as little or as much help as you need. Our Renovation Rescue takes your problems and provides you with practical solutions.
Why invest in a Renovation Consultancy?
Everyone knows that renovating is a great way to add value to a property – if it is done right. Unless you are highly experienced in building or renovating there are many costly mistakes that can be made, and often are. We will help prevent any budget surprises and show you where to spend, how to save money and how to get the best value for every dollar spent.
Most people underestimate both the complexity and the cost of a home renovation. Our team has the knowledge and experience to help you save time and money. We can provide you with a plan for a successful and sustainable renovation.
What will you receive?

How to 'read' a house
What needs to be fixed
What is beyond repair
Where to start the renovation and a basic timeline for work
How much it should cost
How long it should take
What options are best for you and your budget
So, don't be daunted about your renovation. We provide you with a simple plan and are here to guide you along the way, with on-site help, depending upon location.
How long does this take?
As each project differs in complexity, our consultant will outline a timeframe after discussing your project in detail with you.
How much will this cost?
WE'D LOVE TO HEAR ABOUT YOUR PROJECT – CONTACT US FOR A FREE QUOTE
 Renovation Consultancy comes in a range of packages.
1.  Property Analysis and Brief of ideas – Home or Investment Properties – Rental or Renovate For Profit
2.  Full Or Part Renovations
3.  One on One Renovation Mentoring to guide you through the process of renovation and styling
4.  A collaboration between our expertise and your goals – a personal approach to getting the most out of your       home
We can also manage the product ordering, deliveries and co ordinate the tradesman services throughout your project – saving you the stress.
Our advice can save you thousands of dollars and we pass on any Trade Discounts received, directly to you in full!!
We can provide options for kitchen and bathroom layouts, colour schemes, selection of finishes i.e. tiles, tap ware, vanities, benchtops, colour schemes and décor.
How to get started?
Complete the form provided and we will contact you directly for a confidential discussion and no obligation quote.
[contact-form][contact-field label='Name' type='name' required='1'/][contact-field label='Email' type='email' required='1'/][contact-field label='Phone' type='text' required='1'/][/contact-form]
Some Of The Projects We Have Worked On:
Our team has renovated, designed and decorated over 30 properties for ourselves plus worked with clients on restaurants, hotels, business suites, retail outlets as well as their homes providing us with a broad range of experiences and budgets to work within. We have also helped hundreds of other people with advice and strategies for them to implement themselves. We love helping anyone that wants to create a beautiful home – no matter what their budget.
HECTOR COTTAGE
.
This is the first house we renovated. A single fronted worker's cottage in original condition. We built a new fence & put a shed down the side for storage.
We started the project by completing our bedroom first. This gave us a sanctuary away from the building work and I learnt to cook gourmet meals with a microwave and gas camp stove.
We added beautiful stained glass windows in the front that were designed by us and made by a friend.
We removed the wall between the lounge and dining area to create a more open space and built a fretwork arch in character with the home. The bathroom was also rebuilt using slate tiles with water proof lined boards. I loved the claw foot bath we installed. Lots of sanding and filling went into the walls to create a smooth finish throughout the house ready for painting. We highlighted the architectural features such as mouldings and fretwork.
We had the beautiful Baltic pine floors polished and we installed new brass traditional light fittings and fixtures.
We engaged builders to add a small extension to the back of the house to create an eating area and new windows and doors were installed to add light. We bought a DIY timber kitchen from a hardware which we stained and installed. We had a kitchen company install the bench top for us. Later it was painted in all white. We laid the slate floors ourselves and though we had no experience as renovators we learnt along the way.
These finishes are now over 20 years old and are still relevant to todays décor
Finally we built a laundry and 2nd toilet shed in brick finish to match the house. We created a courtyard area and paved it with common bricks. We used railway sleepers for the retaining walls as it was the cheapest option. Then we planted and treed the remainder of the garden to create a private oasis. Looking back we were naive gardeners and I think we put too many trees in which may have been removed by the current owners.
We learnt so much during this renovation and though we were amateurs at the time, we got the top price for this size home in the street.
THE CAPE
This beautiful house had been on the market 2 years without an offer as no one could see how to change the multi coloured finishes on the exterior without huge costs. We were called in to help find a colour that would go with the blue windows as changing over 50 windows would cost a fortune. I selected colour schemes that would compliment the blue and make the windows fade into the building rather than highlight them. i recommended investing in recolouring the red roof as the best alternative. The new owner was unsure about using grey tones, but once the painter put some on the front walls he could see what a huge difference that it made in blending in there blue windows and he loves the new look.Spending less than $200 for our consultancy has been the best money he has invested.
After: By painting the lower level in a mid tone of blue grey, the upper level in a soft white and restraining the timber in a rich hue, the house has been transformed.
Before: Painting all the interiors in a neutral off white gives the home more flow. adding colourful art works and accessories bring in some colour highlights.
After:
Before:
After:
AN AMAZING TRANSFORMATION – MARTINO COTTAGE
This property had been on the market for years with no realising its potential. The cottage was derelict, but had good bones and though the site was zoned for townhouses we decided to save the little cottage and subdivide the block for a 2nd dwelling to make it a viable alternative. We did lots of work  – replaced the roof, put in new windows, added an extension, opened up the verandahs and put in a new bathroom, ensuite, kitchen and laundry. Lots of elbow grease was needed to strip and paint the interior and exterior and we added features such as ceiling roses to bring the cottage back to it's former glory. It was all worth the effort.


CAIRO MEWS
This home was a magnificent property set on the side of a hill with views of the Sydney Harbour.
It had been renovated in the 1970's and had blue and silver flock wallpaper on most of the walls. The block was very slopping and the gardens were over grown. The lower level of the house was just a storage dump. The aim was to redesign the home and return some original character to it. The budget was small in reguard to the work needed to be completed so clever solutions were necessary.
The largest component of this project was to build retaining walls that allowed the land to be more usable. As sandstone did not fit into the budget we used rough faced besser blocks in cream. All the verandahs were rebuilt and new handrails installed.
New traditional styled doors and windows were installed and a traditional cornflower blue colour scheme chosen for the interior.
FOAM RESTAURANT LENNOX HEAD
Marcus and Chris bought this restaurant at Lennox Head beach front after the previous owners had closed down. It needed lots of TLC to add ambience and bring back clientele but had great potential. The boys needed a little advice from Oohm on structure,  colours and decor so they could take on a totally DIY approach. They created Foam a stunning restaurant with a relaxed atmosphere and all done by the boys on a tight budget.
Removing a wall opened up the space and let more light into the central area of the room.
The boys sanded and restrained the table tops and painted the iron legs to give a new finish. they came up great.
Using a monochrome palette, a fresh coat of paint made a huge difference to the tired interior. Adding new corrugated iron and perplex to the verandah added to the beach look.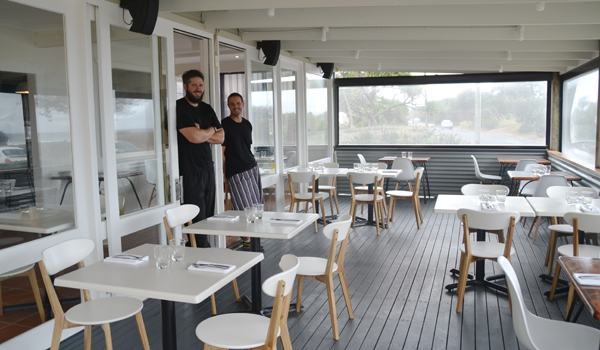 THE CROSS
A 1940'S home in a prestige suburb of Sydney. Bought to redevelop with a large project home that was significantly altered to create a designer home that would reach a maximum sale price.
Rebuilding the existing garage to become a beautiful cabana alongside a stunning pool creates a great entertainment area.
Large open plan kitchen family room in neutral finishes that appeal to a wider market.
This home had room for everyone – 4 bathroom, 5 bedrooms and 3 living areas all in a neutral palette with colour added through soft furnishings and accessories. this is a winning formula and the property sold quickly for a high price.
HORNBY CONDO
Firstly we gutted the whole condominium. In all rooms we took out the base boards under the window, removed floor coverings, and blinds. Then installed underfloor heating, painting the whole place ceiling and walls in a soft white, installed new timber floating floors in white oak, new furniture and new blinds to create a contemporary look with a focus on red highlights in the interior finishes for the client.
Before:
After: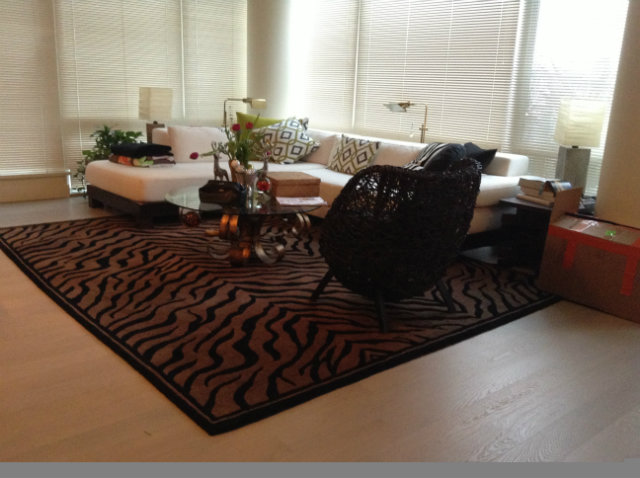 After:
a wall was removed between the living area and the kitchen to give an open and light space that made it more practical for entertaining.
---